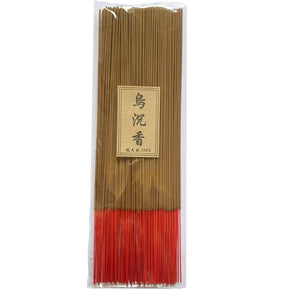 Size and Weight

Length:39.5cm/48.5cm

Weight: 250 gram/pack

About 150-180 sticks

Burning Time

70mins
Wuchen  is mainly made from natural herbs. It has a strong flavor due to the mixture of various herbs and so on.
Wuchen is also effective in repelling mosquitoes and bacteria, removing moisture and improving the air.
Caution:Please store in a dry and cool place.
*Packaging may vary due to production batches. Please refer to the actual items received.

*The size and weight are measured manually, there is a slight error, please refer to the actual item
尺寸&重量

长度: 39.5cm/48.5cm

重量: 250 克/包

约150-180支

点燃时间

70 分钟
乌沉香主要是以天然草本作为原料。由于混合了多种药草等,味道偏浓郁。
乌沉香在驱蚊除菌、去除湿气改善空气等方面也有很好的效果。
注意事项:请放置干燥阴凉处妥善保存。
*因生产批次不同,包装可能会有差异。请以实际收到的物品为准。
*温馨提示:尺寸、重量手工测量,略有误差,请以实际物品为准。