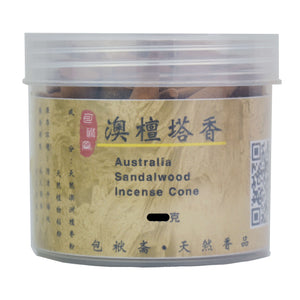 Material Origin

Western Australia

Size and Weight

Diameter:1.3cm

Height: 3.0cm

Weight: 60 gram

About 35-50 pcs/box

Burning Time

15mins
These incense cones are made from Western Australia Sandalwood.
Australia sandalwood is mainly produced in Western Australia, so it is also called Western Australia sandalwood. Compared with the mellow taste of the India sandalwood, it is a bit more secluded, and the aroma is a bit weaker after burning.
Caution: Please store in a dry and cool place.
*Packaging may vary due to production batches. Please refer to the actual items received.

*The size and weight are measured manually, there is a slight error, please refer to the actual item
材料产地

西澳大利亚

尺寸&重量

直径: 1.3cm

高度: 3.0cm

重量: 60 克

约35-50粒/盒

点燃时间

15分钟
此款塔香使用澳洲檀香木原料所制而成。
澳洲檀主要出产在澳大利亚的西澳州,所以也叫西澳檀香。味道相对于老山檀的醇和则显得清幽一些,燃烧后香气也偏弱一点。
注意事项:请放置干燥阴凉处妥善保存。
*因生产批次不同,包装可能会有差异。请以实际收到的物品为准。
*温馨提示:尺寸、重量手工测量,略有误差,请以实际物品为准