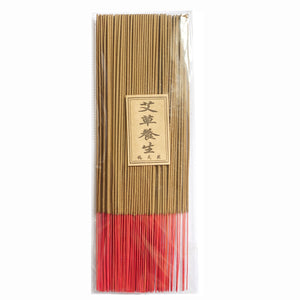 Size and Weight

Length:39.5cm

Weight: 250 gram/pack

About 150-180 sticks

Burning Time

70mins
Mugwort has been used as an incense material since ancient times, and has a deep connection with the traditional Chinese incense culture.
Mugwort has a special fragrance and has many uses in daily life, for example, it can be used to make pillows, which have the effect of relieving fatigue and sleep.
Mugwort can also be used as a medicine, with very good warming menstruation to stop bleeding, as well as dispel cold and pain, fetus, anti-allergic effect. In ancient times, mugwort was often used to disinfect and kill insects by burning and smoking it.
Caution:Please store in a dry and cool place.
*Packaging may vary due to production batches. Please refer to the actual items received.

*The size and weight are measured manually, there is a slight error, please refer to the actual item
尺寸&重量

长度: 39.5cm

重量: 250 克/包

约150-180支

点燃时间

70 分钟
艾草自古就是香材,跟中国的传统香文化有着深厚的不解之缘。
艾草具有一种特殊的香味,在日常生活中具有很多的用途,比如说可以用艾草做成枕头,具有解乏安眠助睡的功效。
艾草还可以全草入药,具有非常好的温经止血,以及散寒止痛、安胎、抗过敏等作用。在古代,人们经常用燃熏艾草的方式来消毒杀虫。
注意事项:请放置干燥阴凉处妥善保存。
*因生产批次不同,包装可能会有差异。请以实际收到的物品为准。
*温馨提示:尺寸、重量手工测量,略有误差,请以实际物品为准。